Philosophy
Contemporary movement of artists from Zimbabwe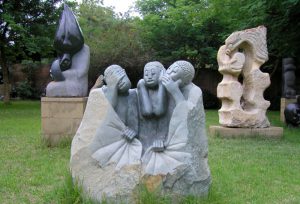 What could be more enriching for a human being than moving about, surrounded by objects that go together so well in personal harmony, objects that have been carefully chosen, desired !
Individual fulfilment can be achieved through learning about our own perception of things. The colours, the shapes, the materials present in our environment all contribute to the growing of our awareness, of our senses.
This is the challenge that the unique work of art wishes us to take up through its originality. One has to learn how to love, how to dare. Know thyself, in order to live this adventure.
By visiting this website you are opening a door that will lead you to the discovery of contemporary original works of art, works that have achieved world-wide acclaim.
You enter in the Contemporary Movement of the Artists from Zimbabwe.
It all started 50 years ago when a few artists started cutting the stone spontaneously, cutting it directly, allowing their imagination to roam freely. Finding their inspiration in the shapes of blocks of Serpentine, the artists work hand in hand with nature, creating sculptures which aesthetically combine strength and gentleness.
This instinctive approach to stone cutting can still be seen in the works of today's artists. Beyond the personal work of each sculptor, a group dynamics has been growing over the years.
Eventhough each one of them works and creates individually, the artists from Zimbabwe have reached world-wide acceptance as an artistic movement.

---
Galleries
The sculptures that you are about to discover as you visit our galleries have been selected during our travels in Zimbabwe. You will enjoy the purity of the lines, the contrast of rough shapes as opposed to polished ones, the variety of the serpentines that were used.

The various galleries of our site :
Figurative art : portraits of hard serpentine and semi precious stones.
Stylized art : sculptures by different artists.
Zachariah Njobo 
 : great artist from the movement.
Discount, good deals : sculptures from various periods at half price.
EXPLAIN US YOUR PROJECT
Our passion for this school of sculptors encourages us to go further into our search for your ideal work of art.
Explain us your own project for interior (house, professional space) or for outside (garden, terrace).


Tell us what kind of budget you have in mind, tell us what your aspirations are, we will look for the sculpture that will fit your needs to perfection. We will be delighted to find the sculpture which will become integrated perfectly into your space...